On a summer day last year, a group of real estate tech executives gathered at a conference hall in Nashville to boast about one of their company's signature products: software that uses a mysterious algorithm to help landlords push the highest possible rents on tenants.
"Never before have we seen these numbers," said Jay Parsons, a vice president of RealPage, as conventiongoers wandered by. Apartment rents had recently shot up by as much as 14.5%, he said in a video touting the company's services. Turning to his colleague, Parsons asked: What role had the software played?
"I think it's driving it, quite honestly," answered Andrew Bowen, another RealPage executive. "As a property manager, very few of us would be willing to actually raise rents double digits within a single month by doing it manually."
The celebratory remarks were more than swagger. For years, RealPage has sold software that uses data analytics to suggest daily prices for open units. Property managers across the United States have gushed about how the company's algorithm boosts profits.
"The beauty of YieldStar is that it pushes you to go places that you wouldn't have gone if you weren't using it," said Kortney Balas, director of revenue management at JVM Realty, referring to RealPage's software in a testimonial video on the company's website.
The nation's largest property management firm, Greystar, found that even in one downturn, its buildings using YieldStar "outperformed their markets by 4.8%," a significant premium above competitors, RealPage said in materials on its website. Greystar uses RealPage's software to price tens of thousands of apartments.
RealPage became the nation's dominant provider of such rent-setting software after federal regulators approved a controversial merger in 2017, a ProPublica investigation found, greatly expanding the company's influence over apartment prices. The move helped the Texas-based company push the client base for its array of real estate tech services past 31,700 customers.
The impact is stark in some markets.
In one neighborhood in Seattle, ProPublica found, 70% of apartments were overseen by just 10 property managers, every single one of which used pricing software sold by RealPage.
To arrive at a recommended rent, the software deploys an algorithm — a set of mathematical rules — to analyze a trove of data RealPage gathers from clients, including private information on what nearby competitors charge.
For tenants, the system upends the practice of negotiating with apartment building staff. RealPage discourages bargaining with renters and has even recommended that landlords in some cases accept a lower occupancy rate in order to raise rents and make more money.
One of the algorithm's developers told ProPublica that leasing agents had "too much empathy" compared to computer generated pricing.
Apartment managers can reject the software's suggestions, but as many as 90% are adopted, according to former RealPage employees.
The software's design and growing reach have raised questions among real estate and legal experts about whether RealPage has birthed a new kind of cartel that allows the nation's largest landlords to indirectly coordinate pricing, potentially in violation of federal law.
Experts say RealPage and its clients invite scrutiny from antitrust enforcers for several reasons, including their use of private data on what competitors charge in rent. In particular, RealPage's creation of work groups that meet privately and include landlords who are otherwise rivals could be a red flag of potential collusion, a former federal prosecutor said.
At a minimum, critics said, the software's algorithm may be artificially inflating rents and stifling competition.
"Machines quickly learn the only way to win is to push prices above competitive levels," said University of Tennessee law professor Maurice Stucke, a former prosecutor in the Justice Department's antitrust division.
RealPage acknowledged that it feeds its clients' internal rent data into its pricing software, giving landlords an aggregated, anonymous look at what their competitors nearby are charging.
A company representative said in an email that RealPage "uses aggregated market data from a variety of sources in a legally compliant manner."
The company noted that landlords who use employees to manually set prices "typically" conduct phone surveys to check competitors' rents, which the company says could result in anti-competitive behavior.
"RealPage's revenue management solutions prioritize a property's own internal supply/demand dynamics over external factors such as competitors' rents," a company statement said, "and therefore help eliminate the risk of collusion that could occur with manual pricing."
The statement said RealPage's software also helps prevent rents from reaching unaffordable levels because it detects drops in demand, like those that happen seasonally, and can respond to them by lowering rents.
RealPage did not make Parsons, Bowen or the company's current CEO, Dana Jones, available for interviews. Balas and a Greystar representative declined to comment on the record about YieldStar. The National Multifamily Housing Council, an industry group, also declined to comment.
Proponents say the software is not distorting the market. RealPage's CEO told investors five years ago that the company wouldn't be big enough to harm competition even after the merger. The CEO of one of YieldStar's earliest users, Ric Campo of Camden Property Trust, told ProPublica that the apartment market in his company's home city alone is so big and diverse that "it would be hard to argue there was some kind of price fixing."
What role RealPage's software has played in soaring rents — which in the decade before the pandemic nearly doubled in some cities — is hard to discern. Inadequate new construction and the tight market for homebuyers have exacerbated an existing housing shortage.
But by RealPage's own admission, its algorithm is helping drive rents higher.
"Find out how YieldStar can help you outperform the market 3% to 7%," RealPage urges potential clients on its website.
Few tenants know that such software, owned by a privately held company, has had a hand in rent increases across the country.
In Boston, renter Kaylee Hutchinson said she was puzzled when her landlord — unbeknownst to her, a RealPage client — told her days into the first pandemic lockdowns that her rent was going up. Building staff insisted that the market rate for her apartment was 6.5% higher than she was paying, despite her protests that people were fleeing the city.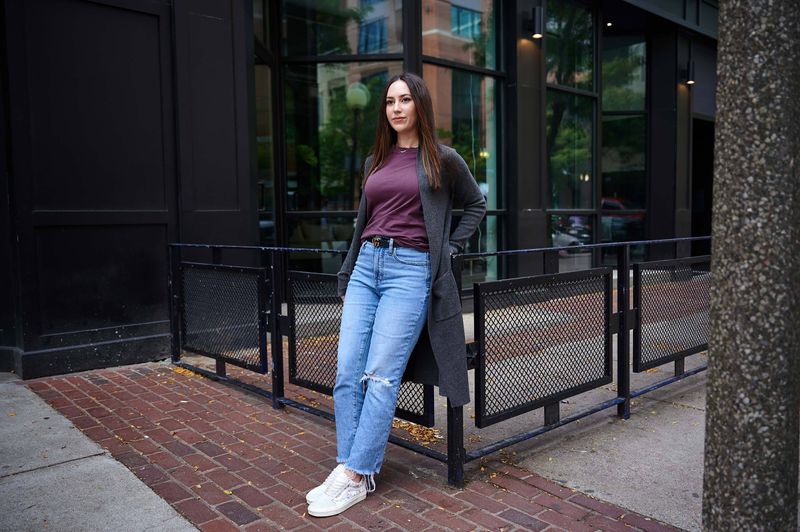 Kaylee Hutchinson's landlord, who uses RealPage's pricing software, told her rent was going up at the start of the pandemic even as many people were fleeing the city. Credit:Philip Keith, special to ProPublica
A few weeks later, she and her fiancé saw a newly vacant unit in their building advertised online for less. One of their landlord's policies permitted moving to another unit owned by the company, so they did.
Hutchinson, who is an analyst for the police department, wondered if a computer algorithm was behind building staff's inflexibility. "It was pretty obvious they should have been dropping prices," she said. "They were digging their heels in."
Hutchinson said she watched apartments in her building sit vacant at prices that didn't make sense to her.
"A normal mom-and-pop landlord, they're worried about having a good tenant and protecting their interest in the agreement," Hutchinson said. "These companies, they'll just replace you."
The Origins of YieldStar
One of YieldStar's main architects was a business executive who had personal experience with an antitrust prosecution.
A genial, self-described "numbers nerd," Jeffrey Roper was Alaska Airlines' director of revenue management when it and other major airlines began developing price-setting software in the 1980s.
Competing airlines began using common software to share planned routes and prices with each other before they became public. The technology helped head off price wars that would have lowered ticket prices, the Department of Justice said.
The department said the arrangement may have artificially inflated airfares, estimating the cost to consumers at more than a billion dollars between 1988 and 1992. The government eventually reached settlements or consent decrees for price fixing with eight airlines, including Alaska Airlines, all of which agreed to change how they used the technology.
At one point, federal agents removed a computer and documents from Roper's office at the airline. He said he and other creators of the software weren't aware of the antitrust implications. "We all got called up before the Department of Justice in the early 1980s because we were colluding," he said. "We had no idea."
When Roper returned to the United States in the early 2000s after a stint in central and eastern Europe, he said, he discovered the apartment rental industry was so far behind technologically that it resembled the emerging markets he'd just left.
Apartment managers were "basically pricing their product on a paper napkin," said Roper, who eventually formed his own company.
Old computers and manual recordkeeping were mainstays of the industry. Leasing agents gauged how their buildings compared by calling up competitors. "This was just a ripe business," with lots of money and lots of opportunities for technological improvement, Roper said.
RealPage hired Roper as its principal scientist in 2004 to improve software it had bought from Camden Property Trust, a large investor-backed owner and manager of apartment buildings.
Roper quickly realized he required data — a lot of data — to get the algorithm working properly. He began building a "master data warehouse" that pulled in client data from other RealPage applications, such as those for leasing managers.
A proof-of-concept version of the software had performed well in tests at townhouses Camden offered for rent in its home city of Houston.
At the time, the street behind Camden's townhouses was shut down while a grocery store was being built. Leasing staff wanted to discount rent for the townhouses because of the nuisance, said Kip Zacharias, who worked with Camden as a consultant.
Instead, YieldStar suggested boosting rents. "We were like, 'Guys, just try it,'" Zacharias said.
The units ended up renting for significantly more than staff had expected, he said. "That was kind of the eureka moment," Zacharias said. "If you'd listened to your gut, you would have lowered your price."
The practice of lowering rent to fill a vacancy was a reflex for many in the apartment industry. Letting units sit empty could be costly and nerve-wracking for leasing agents.
Such agents sometimes hesitated to push rents higher. Roper said they were often peers of the people they were renting to. "We said there's way too much empathy going on here," he said. "This is one of the reasons we wanted to get pricing off-site."
Unimpeded by human worries, YieldStar's price increases sometimes led to more tenants leaving.
Camden's turnover rates increased about 15 percentage points in 2006 after it implemented YieldStar, Campo, the company's CEO, told a trade publication a few years later. But that wasn't a problem for the firm: Despite having to replace more renters, its revenue grew by 7.4%.